Time to Rise Fitness, located in Shillington, PA, is a brand new facility dedicated to all forms of fitness. Upon opening, our gym will provide state-of-the-art equipment, including Arsenal, Ghost, Hammer Strength, Precor and Intek, while also offering cardio equipment, a dedicated powerlifting room, and studio space. As Time to Rise Fitness grows, we look forward to expanding our class options. Personal training is welcome and encouraged. Whether you feel most at home using cardio equipment, lifting weights, or practicing yoga, our gym will signal your time to rise to become the best version of yourself.
We just celebrated our 26th wedding anniversary and sensed it was time to throw ourselves into a new inspirational project. When our children, Zachary and Mackenzie, heard about our plan, Zach and Kenz quickly began to pitch in ideas, too. The project became a family effort with all of us discussing, sketching, and revising blueprints for the Time to Rise Fitness floor plan. In actuality, the family, especially Allen, has dreamed of opening a gym for well over a decade. Now, in 2020, this exercise-loving family of four is committed to bringing Allen's dream to fruition, while also providing the best space possible for all fitness enthusiasts.
MEET THE FAMILY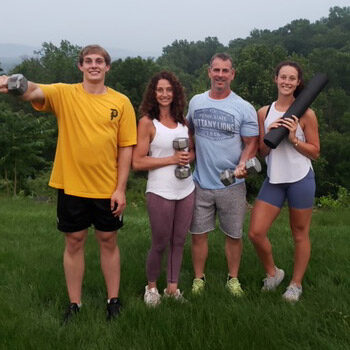 Allen & Margaret Homan: Dedicated Partners and Parents
Allen has spent his entire adult life as an avid body builder, personal trainer, and business owner—and has managed to stay fit the entire time! He is a dedicated husband and father as well as an enthusiastic cook and handyman. Allen is admired by many. We look up to him so much!
Margaret (Mags) has been a physical therapist for 27 years and is currently expanding her practice into pelvic floor therapy. She enjoys not only weightlifting but also stretching and teaching. For many years, Mags even taught backyard bootcamp classes to many of her friends!
Zachary Homan: Penn State Graduate, Wrestler, and Jiujitsu Enthusiast
Our son, Zach, has always been exposed to the fitness lifestyle, taking up wrestling as a passion early in his life. Zach not only works to keep himself healthy but also loves to help train his younger cousins and lift with many of his best friends whenever he's home for a visit from Arlington, VA, where he works as a cyber security specialist.
Mackenzie Homan: PSU Student, Dancer, and Budding Yogi
While our daughter, Mackenzie, enjoys lifting weights, her real passion lies in movement. A dancer for most of her life, Kenz practices ballet as well as many other dance styles. She loves to teach dance and to share her insights on Pilates, Zumba, and especially Yoga.